Saving on St. Patrick's Day
It's almost time to throw on a green shirt and grab a pint of Guinness – St. Patrick's Day Weekend is almost upon us! Luckily, whether you're in the UK or the US, Smartsave can help you celebrate the Irish holiday with cost-effective offers.
Planet Hollywood
Under a 7 minute walk from Trafalgar Square, Planet Hollywood would be the perfect place to continue the festivities once the parade is over. From pasta and pizza to burgers and noodles, Planet Hollywood's menu can satisfy any appetite amidst a star-studded atmosphere filled with famous movie memorabilia.
If you'd like to know more about Planet Hollywood, read our review on our dining experience there.
Chelsea FC Stadium Tour
Perhaps you'd like to spend time in the exciting world of sports this St. Patrick's Day weekend. In that case, you should visit the Home of the Blues and get the full Chelsea Football Club experience. You'll get to sit on the interview hot seat in the press room and visit the dressing room of your favourite players in Stamford Bridge. As you walk through the tunnel out onto the pitch, you can be surrounded by the sound of thousands of chanting fans on your audio-tour. The visit will be guided throughout and you'll get to hear some of the club's most memorable moments.
After the tour, refuel with drinks and a meal for 20% off with our voucher at Frankie's Sports Bar & Diner. The menu includes American favourites, such as pizza, burgers and New York cheesecake.
Medieval Banquet
Why not travel back in time and take up a free pint of Guinness this St. Patrick's Day at the Medieval Banquet London? With a medieval four-course meal accompanied by wine or ale, you can immerse yourself in a dining experience filled with dragons, dames and knights. After the show, stay and do an Irish jig as there is room to dance until late. To get the free pint of Guinness, just make sure to wear green!
To find out what a magical night at Medieval Banquet is like, check out this blog post.
Manchester
Stadium Tour
Spending St. Patrick's Day north of London? No visit to Manchester, home to one of the most successful English football clubs of all time, would be complete without a tour of the Manchester United Stadium. Walk upon the same field that David Beckham once did and witness football history unveil before your eyes as the award-winning museum takes you through the impressive story of the Red Devils.
New York
Ride NYC Bus Tour
Across the pond, you can ride into St. Patrick's Day Weekend in style with the Ride NYC Bus Tour! With this bus tour, you can see New York City through stadium-style seating and floor-to-ceiling glass windows, all against the backdrop of famous New York landmarks including Times Square, Columbus Circle, the Chrysler Building, Grand Central Terminal and Bryant Park. Along the way, there's a cast of entertainers that are sure to give you a unique experience unlike any other. What's more, Smartsave will be offering a special 43% off voucher on tickets – valid until March 31st!
Gulliver's Gate
Leave the Land of Large and enter the spectacular world of Gulliver's Gate, located at the crossroads of the world, Times Square, this St. Patrick's Day Weekend. This miniature museum allows for visitors to travel across the globe as small, 3-D printed models cover an entire city block. Ignite your imagination and lose yourself in this tiny world of wonders. Gulliver's Gate is an adventure waiting for you.
In addition to our voucher, which allows users to skip the line and get 20% off on a VIP ticket, be on the lookout as there will also be a St. Patty's Day Scavenger Hunt among the miniatures.!
Madison Square Garden – All Access Tour
Get to know New York City's most famous venue with an all access tour! As you explore the arena, lets its legendary history and cosmic size sink in. On the way, you can see Elton John's autographed set list, view the liturgy book for the Papal Mass of Pope Francis, visit the Knicks and Rangers locker rooms, and much more. Unfortunately, this tour won't be held on St. Patrick's Day, however, tickets are available for Saturday, March 16th.
San Francisco
San Francisco Zoo & Gardens
On the Pacific coast, you can celebrate St. Patrick's Day with a visit to the San Francisco Zoo & Gardens! Home to more than 2,000 exotic animals, the San Francisco Zoo surrounds guests with giraffes, zebras, grizzly bears and more. In true St. Patty's Day spirit, the Zoo will be hosting a Shamrock Stroll on Saturday and Sunday, where guests can go on a self-guided tour to find lucky shamrocks featuring fun facts about the Zoo's animals. On Sunday from 10 AM to 1 PM, enjoy live music and Irish entertainment as well as traditional Irish adult beverages at the Lemur Cafe's Shamrock Bar. Additionally, at 11 AM on Sunday, you can witness a performance by the Whelan Academy of Irish Dance.
For more on animal adventures in San Francisco, you can read this blog post.
7D Experience & Maze Special Offer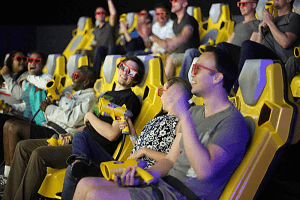 If you're looking for something a little different to do on St. Patrick's Day, try experiencing the thrill of a rollercoaster and the excitement of a state-of-the-art laser-blasting game at 7D Experience. In a 20-seat theatre, pick up your laser gun and battle it out for the highest score as you blast your way through robots, zombies and werewolves. To top it off, Smartsave has a special 30% voucher to this mind bending attraction!