Celebrate National Bike Month
Did you know that May was National Bike Month in the United States? This is thus the perfect time to escape from the traffic of San Francisco and discover this wonderful city by bike.
San Francisco is an absolutely charming and delightful city – probably one of my favourite in the US – and is even prettier under May's sunshine. Make the most of the gorgeous weather by going on an amazing sightseeing adventure with Blazing Saddles.
This bike rental offers you the chance to choose what you want to do. You can either go on your own to make your own tour and be free to explore San Francisco whichever way you want, or enjoy a guided tour through the city.
The family friendly Blazing saddles bike rentals and tours allows people of all skill sets to enjoy a ride in SF. From beginners to experienced riders, you can find what you're looking for in Blazing Saddles.
San Francisco offers plenty of bike friendly routes that feature iconic sites such as the Golden Gate Bridge, the Bay or even Presidio National Park. Take a ride on the impressive worldwide famous bridge of SF while enjoying sunshine – burning off the traditional sourdough bread, a San Francisco delicacy, that you ate for lunch.
Leave the cars and the traffic behind and participate in national bike month by going on a ride with Blazing Saddles. Smartsave even gives you a 20% discount!
Learn more about the tours and download your voucher here!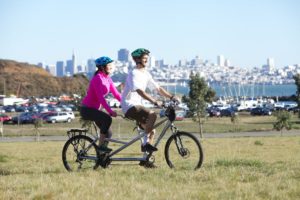 A couple enjoying a quiet ride in San Francisco