Fleet Week
Everybody in New York knows that the end of May is when the Naval, Marine and Coast Guard service men and women descend on the city for a week filled with patriotism and fun. Lucky for you, Smartsave has 20% off vouchers to attractions to celebrate the week!
Intrepid Sea, Air & Space Museum
What's a better way to celebrate the service men and women than by visiting the Intrepid Sea, Air & Space Museum? Explore history, science and service as you walk through the decks of the legendary aircraft carrier Intrepid. Explore a number of authentically restored aircrafts, the British Airways Concorde and the Space Shuttle Pavilion. Get an up-close look at the space shuttle Enterprise, the world's fastest military jet, and enter Growler, the only guided missile submarine open to the public. The Intrepid Museum is filled with tons of interactive exhibits that will leave you entertained for hours!
The Intrepid Museum is celebrating Fleet Week with live performances, interactive displays, swing dancing on the flight deck and special events honouring the service men and women every day from May 23 – 28. Be sure to stop by and join in the celebrations with one of our 20% off vouchers!
Circle Line Downtown
Take in the sights of New York City such as its celebrated towers, memorials and Statue of Liberty in one of two cruise options: Statue of Liberty Express or Statue by Night. In the Statue of Liberty Express cruise you will experience no better way to see the Statue of Liberty. Enjoy the fastest and most efficient way to experience the splendour of New York Harbor by basking in the panoramic views of downtown Manhattan. In Statue by Night see the magnificently illuminated New York City skyline at night. Experience the Statue of Liberty up-close, personal and gloriously illuminated in an experience that is genuine magic.
Have a day or night you'll never forget by booking these cruises with Circle Line Downtown. Get your 20% off discount here!
New York Water Taxi
Enjoy a ride – and adventure – around the New York Harbor with New York Water Taxi! Hop aboard with the All-Access Pass to have all day unlimited access to a sea of famous sights. Get close-up photo opportunities of the Statue of Liberty and Brooklyn Bridge. Or take the Statue of Liberty Express which is narrated by informative and wildly entertaining guides. This 60-minute tour will sail you by the skyline and landmarks of Lower Manhattan, then pause up close to legendary Lady Liberty.
It's more than just a cruse – it's an essential New York City experience! Enjoy your 20% off voucher here!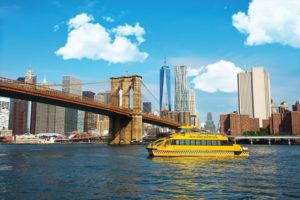 Statue of Liberty and Ellis Island 1 Hour Cruise
Want the opportunity to sail within 100 feet of the Statue of Liberty, cruise under the Brooklyn Bridge and see the most famous skyline in the world? Well then you need to go on the Statue of Liberty and Ellis Island 1 House Cruise! Be in awe of the Empire State Building, Manhattan Bridge and Governor's Island and take pictures of the famous entry point to New York City – Ellis Island. There are also indoor and outdoor settings for your viewing pleasure.
What are you waiting for? Enjoy a 20% off voucher!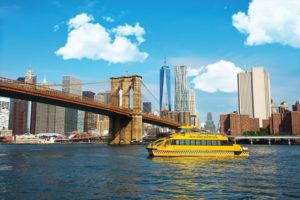 Hornblower International Sightseeing Cruise
Enjoy unparalleled views of Manhattan's iconic skyline and landmarks in this hour long international sightseeing cruise! Sail down the East River to New York Harbor then down to the iconic Hudson and end in the Lower Manhattan shoreline. This international experience is available in eight languages and includes visits to the Freedom Tower, Empire State Building, Statue of Liberty, Brooklyn Bridge and Governor's Island.
Use a 20% off voucher for this unbelievable experience!