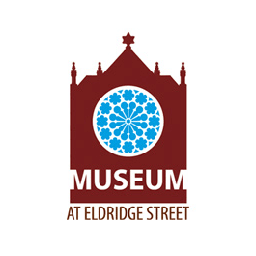 Museum at Eldridge Street
Museum at Eldridge Street – Overview
Visit the Museum at Eldridge Street, a stunning historic landmark which the New York Times called "gasp-inducing". The building's restored main sanctuary is one of New York's City's hidden treasures.
Highlights
Discover one of New York City's most magnificent hidden treasures!
Built in 1887, the building that houses the Museum at Eldridge Street is now a National Historic Landmark. The Museum preserves and celebrates the history of the synagogue's Jewish immigrant founders, newcomers to America fleeing pogroms and persecution in Europe. Their magnificent synagogue building was the first great house of worship built by Jewish immigrants from Eastern Europe in America. Saved from the brink of collapse in the 1970s, today it is among the only remaining markers of the great Jewish migration to the Lower East Side.
The meticulous historic restoration is paired with a contemporary stained-glass window by artist Kiki Smith and architect Deborah Gans. Visitors can marvel at the juxtaposition of authentic 19th-century grandeur and 21st-century art.
Hourly tours by expert guides provide an enlightening and entertaining look into the lives of those who made a mark in the city's Jewish community. In addition to the historic sanctuary space, small exhibition galleries features Yiddish signs, archival documents, historic artefacts, and much more. The Museum holds special events throughout the year, including concerts, lectures and festivals celebrating immigration culture of the past and present.
A building tour is included in the price of admission but not required for visitation.
Important Information
Save 20% on your tickets to the Museum at Eldridge Street by printing the Smartsave coupon and presenting it when you pay.
Alternatively, you can display the code using your mobile phone.
Prices & Tickets
| | Regular Price | With Voucher | |
| --- | --- | --- | --- |
| Adult 17+ | $14.00 | $11.20 | |
| Senior/Student | $10.00 | $8.00 | |
| Child 5-17 | $8.00 | $6.40 | |
Opening hours
Tours are offered every hour. Last tour is at 4pm Sunday to Thursday, and at 2pm on Friday. The Museum is closed for major Jewish, National holidays and on the 12th of November.
| | |
| --- | --- |
| monday | 10:00 - 17:00 |
| tuesday | 10:00 - 17:00 |
| wednesday | 10:00 - 17:00 |
| thursday | 10:00 - 17:00 |
| friday | 10:00 - 15:00 |
| saturday | Closed |
| sunday | 10:00 - 17:00 |