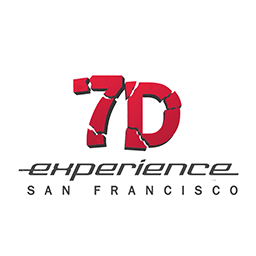 The 7D Experience San Francisco
Overview
Experience the thrill of a rollercoaster and the excitement of a fully interactive video game on the Dark Ride at the 7D Experience located on San Francisco's historic Pier 39.
State of the art technology and innovative ride design put each rider in the middle of the action. The award winning Dark Ride is a fun experience for the entire family.
Highlights
With five ride options: Zombies, Gigamon, Los Banditos, Road Fighters and Werewolves, there is an experience for every member of the family.
Players can blast robots in the Wild West, machine gun their way through Zombies or battle Werewolves in Victorian London. The 7D Experience has ride options for all ages, from cartoon fun to scary screams.
Each player is equipped with laser guns and compete for the highest score during the game.Battle with up to 20 people at once, and show off your skills!
Important Information
All riders must be at least 40 inches tall
Disabled access is possible
Souvenir photos are not included in the ticket price
Rides start approximately every 10 minutes