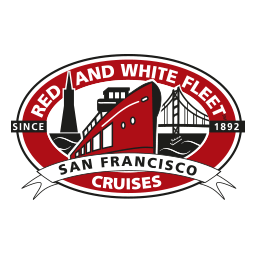 Golden Gate Bay Cruise – 30% off tickets!
Golden Gate Cruise 
Experience breath-taking views of San Francisco on this Golden Gate Cruise! Get to see the famous SF skyline and some of the cities major attractions from the water. Not only for tourists a must-see!
Highlights
Launched in 1939, this Golden Gate Bay Cruise has been a highlight of any visit to San Francisco for nearly 80 years. On the boat trip, you'll discover the city's colorful history and world famous landmarks, then pass by San Francisco's stunning waterfront, under the majestic Golden Gate Bridge, and close to the notorious Alcatraz Island.
A fantastic audio commentary in 16 different languages brings San Francisco history to life. During the cruise, you may also experience up-close some of San Francisco's wildlife including seagulls, pelicans, and sea lions. At times, you may even see a whale, so be alert!
On the cruise, you will depart from the heart of historic Fisherman's Wharf at Pier 43½, cruising past San Fran's lively cityscape. Then, head west toward the majestic Golden Gate Bridge. On the way, you'll see Fort Mason, the Marin district and the lush hillsides of the Presidio. After that, you'll be cruising under the main event – The Golden Gate Bridge. After a full-hour of exciting sights on Red and White Fleet's Golden Gate Bay Cruise, you will steam back into the bay where the barking sea lions a Pier 39 will welcome you back.
You may also be interested in Muir Woods and Sausalito Tour while you are in San Francisco!
Important information
To enjoy you 30% discount Click Buy Tickets and use Promo Code: SMRT 
Check the Golden Gate Bay Cruise schedule here.
Wheelchair accessible.
Children ages 4 and under receive complimentary admission to Red and White Fleet cruises. However, they need to be ticketed for capacity control. If you have a child aged 4 or younger in your group, please call +1 (415) 673-2900 once you've placed your order.
Opening hours
Check the Golden Gate Bay Cruise schedule here.