Most of us only have a limited number of paid annual holiday days. (And if you don't, you must be very lucky!) So, why not go on a weekend getaway? We'll tell you how to make the most out of your time in any given city.
#1 Accommodation
When looking for a place to stay in another city, there are various options. You can either simply book a hotel room or you can make yourself feel more at home by renting someone else's apartment or spare room via Airbnb, Homestay, or Couchsurfing. Whatever choice you make, be sure to check out the location of the accommodation first. You might have found an unbeatable deal in terms of the costs, but that's no use if you spend an hour travelling to any major attraction.
So, have a look on Google maps and try to figure out what area is convenient to stay in, in order to reach all places, you'd like to go to during your stay. Where's the city's centre and where are all the important must-see sights? Also, important to consider are public transport connections and transport accessibility.
#2 Sightseeing
Before going to a city you've never been to before – or where you've been to but didn't manage to see all the important stuff – make a bucket list. Browse the internet, ask friends, and flip through a travel guide to find interesting attractions and the city's most popular sights. If you're more interested in unusual things to do, try looking for 'hidden gems' or 'unusual things to do' on the internet. Have a look at how far the places are apart from each other and plan your route through town before your weekend getaway. That way you don't have to rush from one end to the other and back, while trusting your smartphone to guide you.
If you want to be extra professional about planning your trip, create your very own travel itinerary for example with a website, such as inspirock, or simply create a document on Word. That'll make sure that you won't miss out on anything or forget so go somewhere. You can also check out local events happening at the time. Add them to the list, if they spark your interest!
Furthermore, handy and possibly worth the extra money are skip the line tickets. Because, what is more annoying than wasting your time standing in line and waiting? This tip is especially helpful for popular attractions, such as the Parisian Catacombs or the Empire State Building.
Of course, travelling, visiting another city and sightseeing all day makes you tired. However, try to get up early anyways! There is no point in a weekend trip, if you spend half the day in bed, which you could've done just as well back home. So, get up, sleepyhead, and start exploring!
#3 Food
What's one of the best things when being in another city or even another country? You're right, the food! Every place has its own delicacies and things you need to try when you're there. Check out special foods and where to get them best. Most useful for that is the App Foodguide, available for many major cities, or simply type in 'What to eat in (city)' on Google. Maybe you can even master planning and put the restaurants and food places where you'd like to go on your itinerary for your weekend getaway as well! That will save you a lot of time, because you don't have to spend so long looking around the city or researching where to go on the spot and will also decrease the risk of finding yourself at a bad restaurant, overflowing with tourists. Those food spots are usually not worth the hype.
#4 Travel
When only travelling for one weekend, try arriving as early as possible on Thursday or Friday (depending if it's a long weekend). Thus, you can enjoy a nice dinner after your arrival. On Sunday, try booking your return journey as late as possible, so you can have a whole day to explore even more.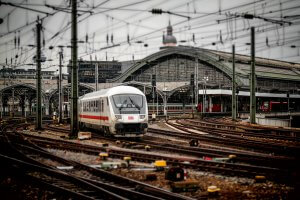 Booking the right flight, train, or bus connection makes all the difference, too. Oftentimes, there are routes available which won't have you change and wait. Also, be sure to choose the means of transportation and connection with the shortest travel duration. That way you can arrive as early as possible at your travel destination.
An extra tip if you're travelling by car: plan a stop in a nice city along the way. You'll benefit from it by seeing and experiencing even more and make even better use out of your weekend.
#5 Transportation
Before your weekend getaway, inform yourself about how to get around in the city you're visiting best. Don't get confused by the transportation system, which is slightly different everywhere. However, if you've been to other cities with a public transportation network and you're sort of used to it, this won't be a problem and you'll get used to it quickly.
Make sure you have the right tickets for where you're going. In some cities you might have to pay a hefty fine for fare dodging. Usually, there are locals or staff of the transport company who can most likely help you with this one.
Consider if it's really necessary to get on a tube or a bus. Maybe you can walk to your desired destination and see more of the city by doing so. Also, self-guided walking tours might be a good option to get around an discover various neighbourhoods and attractions. This will give you a much greater overview and a better sense of orientation. Find them on Google and get weaving!
#6 Concentrate on the experience
The whole point of travelling for a weekend is to get away from the buzz and the stress at home and enjoy a couple of extra 'holidays'. That's why you shouldn't constantly check your phone or your emails. Appreciate getting away from it all for at least a small amount of time and empty your mind for once. There cannot possibly be anything so urgent at work that couldn't wait to be tackled on Monday, when you're back at the office – calm and relaxed. So, concentrate on sights, attractions, and experiences. Nonetheless, that's why you travelled there for.
A weekend getaway – what are you waiting for? Pack your bags and book your city trip for the weekend! Paris, Rome, Munich … There are so many cities well worth seeing.
Smartsave Blog
Be sure to check out our amazing Smartsave blog where we let you know on how you can get more bang for your buck! Explore the possibilities on the best things to do in major cities in the UK, US and Europe. Click now to read our blogs and find inspiration on what to do and where to go, all year round.