A

Romantic Day at Winter Wonderland
I don't want a lot for Christmas, there is just one thing I need…all I want for Christmas is you!
Is it the cold weather making you want to cuddle up, the Christmas films and songs which are all about romantic relationships, or simply the thought about not wanting to be alone that awakens the yearning for love in many of us during Christmas season? Strolling around hand in hand, sharing some sugar roasted almonds, and enjoying time together. Sounds lovely, doesn't it?
Like every year, a huge Winter spectacle will take place in Hyde Park. Winter Wonderland will open its doors to the public at 4 pm on 21st November. It's opened the whole month of December (except Christmas) until 5th January and entry is free. With its many Holiday-themed attractions and spectacular shows, it is perfect for taking your sweetheart on a date – and get in the Christmas spirit together. Here are some things that you can do at Winter Wonderland in London this winter, which certainly ensure a romantic day out:
#1 Watch a Spectacular Show
What do you call an elf who sings? A wrapper! Share a laugh from Thursdays to Saturdays at the Winter Wonderland Comedy Club! Watch emerging and established British comedians starring for instance Milton Jones, the TV star and comedian Marcus Brigstocke, and Britain Got Talent Star Lee Ridley.
Gape in astonishment at Cirque Berserk, when watching the international group of acrobats doing daredevil tricks. Watch aerials showcase stunts high up in the tent, stuntmen on motorcycles inside a giant steel cage, jugglers, dancers, drummers, and much more. You'll witness some breath-taking things you've never seen before!
As every year, you'll see the world's best circus acts at Zippos Christmas Circus. The all international crew has developed an all new holiday-themed show well worth seeing.
#2 Immerse Yourself in a Magical Kingdom
This year at Winter Wonderland something extra special will be presented. Artists transformed the famous story of 'A Christmas Carol' into a world of ice sculptures and snow. With over 500 tons of ice, it's the UK's largest ice experience. Explore together, hand in hand, the wintry streets of London, the Scrooge's house, and meet the ghost of the past, present, and future Christmas. The Magical Ice Kingdom is the perfect place to immerse yourself in a magical festive world and get in the spirit of the season. It's no Humbug, after all!
#3 Get on a Ride Together
Love is like a roller coaster. However, it's much more fun to get on a real one! Experience an adrenaline rush on one of the many rides. Get on the Munich Looping, a popular ride from the Oktoberfest and one of the largest roller coasters in the world, the Wilde Maus, spinning you up, down, and around, and on the Christmas Coaster, the most festive ride on the fair.
Fancy something less wild? Get on the Ferris Wheel – a token couples ride. From the top the observation wheel you'll have breath-taking, one of a kind views on the city. Enjoy the calm togetherness, when taking a break from the bustle and excitement of the busy market. The highlight might even be a kiss…
#4 Go Ice Skating 
There's nothing more suitable for breaking the ice on a date than ice skating! You'll have to hold hands or onto each other's arms in order not to slip and fall. And one of you most definitely will fall and break the embarrassment. Or maybe you can impress your date with some ice skating moves? Winter Wonderland has the largest outdoor ice rink and the life music provides the perfect festive atmosphere. Get on your skates and on the ice!
#5 Enjoy some Good Food
The way to a man's heart is through his stomach. Winter Wonderland is the perfect place to prove this saying right. There are lots of options promising a culinary experience and there is for sure something for everyone's taste.
For a nice dinner date, comfortably sit down and escape the hustle in a cosy tepee in front of a warming fireplace at the Cedar & Spruce Bar + Kitchen, serving globally inspired festive meals, from Wonton to Steak Pie.
Enjoy an Oktoberfest Style Meal at the authentic Bavarian Village. Grab a tasty Bratwurst, chicken, grilled salmon or other traditional meals at one of the wooden booths. Don't miss out on trying out a stein or two of the big beer range. In the Bavarian Hall or The Almhütte you can sit down and, especially in the evening, enjoy a festive atmosphere with traditional Bavarian music.
In addition, all over Winter Wonderland there are stalls, offering stone-baked pizzas, Hot Dogs, and Burgers. And, of course, you cannot forget about the sweet treats for your sweetheart – churros, crepes, cotton candy, …
#6 Have a Drink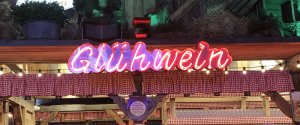 Did all the tasty food make you thirsty? Then it is time to hit up one of the bars to sip on a, preferably warm, drink! Mulled wine, (spiked) hot chocolate, cider…
Feel like you're in the Alps at a chilly -10˚C at the Bar Ice – indeed, an excuse to move a little closer together. Another perfect drinking spot for a date is the Bar Hütte, where you can have a true après ski experience, singing karaoke. Fun, silly, and active!
Also, check out THOR's Tipi for some Scandinavian flair and The Fire Pit to warm up with some special winter warmer cocktails.
#7 Partake in the Ice Sculpting Workshop
Impressed by the Magical Kingdom presenting A Christmas Carol? Try it out yourself and get creative partaking in the Ice Sculpting Workshop! Team up with your partner to create your very own ice sculpture under expert guidance. A unique experience to bond over.
Don't forget to book your tickets beforehand!
#8 Christmas Market at Winter Wonderland
Winter Wonderland is not all rides, games, and excitement, though. There is also a much quieter and calmer area. The traditional Christmas Market includes many wooden stalls, offering unique gifts, ornaments, and culinary specialities. Stroll around the Bavarian-inspired booths decorated with fairy lights and get in the festive mood. Feel like you're far away from all the Christmas stress and enjoy the most wonderful time of the year.
There certainly is lots to experience and see when going to Hyde Park Winter Wonderland. Take your loved one on a magical winter date and have an unforgettable time together.
Merry Christmas, baby!
Be sure to check out our amazing Smartsave blog where we let you know on how you can get more bang for your buck! Explore the possibilities on the best things to do in major cities in the UK, US and Europe. Click now to read our blogs and find inspiration on what to do and where to go, all year round.