Medieval Banquet London: A Smartsave Tale.
Another Smartsave Team outing! Off to the Tower Bridge we travelled, and dined at the Medieval Banquet  London we did. At Smartsave we thought we'd break the cliche of Londoners spending a Friday night at a fancy cocktail bar in the City or the West End. Instead, we took a trip back in time to Medieval England of Henry VIII times.
Once arrived at the banks of St Katherine's Dock, we entered the great Dining Hall where we were greeted by our waitress though here they prefer to be called Wench! She shrieked with delight when she saw our 20% Smartsave voucher and provided us with a free Pimm's welcome drink, part of Smartsave's deal with the Medieval Banquet.
Once at our table we found a sheet of paper that contained sacred scriptures, an actual oath that everyone in the banquet recited. I still remember those words as it were yesterday, if you are reading this blog and paying attention, utter these words with me!
"I swear before these here that I shall fight to the death of my liege lord. If my lord should die, I shall take up his place and fight fiercely as he would have thought. If anyone here see me taken faint heart and flee, he shall remind me of this pledge made here today before my kinsfolk"
The night was filled with amazing acts which included singing, dancing and the like plus dazzling acrobatic performances by the Kings private Jesters who did beautifully in putting on a great show. Well, I guess they kind of had to – otherwise it would have been a swift 'Off with their heads' scenario. Applause was naturally encouraged though no boring clapping hands here – appreciation needed to be shown through banging our fists on the metal tables, deafening when everyone's doing it!
Many guests made an effort to dress appropriately but if you want to go all the way, there's authentic costumes for hire for that full medieval experience!
Once the Banquet's Royal jesters graced us with their performances, out came the starters, first a green vegetable soup served with bread which was absolutely delicious. Drinks are also included, the wenches provide everything on the table – wine, good old-fashioned ale and water and Juice for the children of course. However, to avoid bad table service you must scream out the word "WENCH"! and bang your fist on the table if you are to grab the attention of your waitress.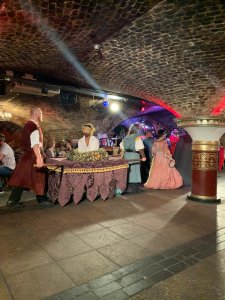 With more magical and breath-taking performances (a total of five!), out came platters of cold cut meats and then the main course of a succulent roast chicken served with roast potatoes and vegetables. Surprisingly rich in herbs and flavour considering Medieval England had not had access to exotic spices and herbs in those days! The banquet was even considerate enough to offer a vegan friendly meal which I must say coming from a non-vegan was spectacular.
Alas, the end of the night drew nearer, the people's appetites where fed, their thirst quenched, and their tickle bones where tickled from the amazing and entertaining performances. Now came the apple pie along with a duel between the knights of the kingdom. But I won't go into too much detail about that, I'll let you find that one out for yourself. And – if that still wasn't enough, there's dancing until late to round off the evening – a perfect night out!
Book tickets to the Medieval Banquet London today and SAVE 20% off with Smartsave!