25 Days of Christmas in London
The holidays are moving closer and closer – quicker than some might like. For some the most wonderful time of the year, for others pure stress. However, there is a huge selection of events and activities in London which for sure will get you in the festive mood. We have picked out 25 things you can do with your family, friends, or even on your own, this December for a jolly Christmas in London.
Day 1: Decorate your home
It's beginning to look a lot like Christmas. It's high time to get in the festive mood. And what's a better way to kick off this time of the year than putting up Christmas decorations inside and outside your home? It even is scientifically proven that this will improve your mood! Candles, garlands, ribbons, wreaths, and swags, traditionally in green, red, and gold. And if you're feeling a bit more adventurous, follow the deep blue or even purple colour trend this year. So, turn on the Christmas Songs and get decorating!
Day 2: Sip on some Mulled Wine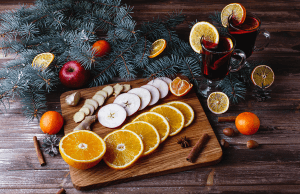 Mulled wine means Christmas time everywhere, not only in London. The hot red wine combined with spices is the perfect way to warm up in the cold weather. Either make it at home (there are pretty easy recipes and even Mulled Wine Spice Kits to buy) or go to one of many Mulled Wine Pop ups in London. And kids won't have to miss out on the delicious beverage, there are also non-alcoholic mulled drinks available.
Day 3: Go Ice Skating
The Natural History Museum is impressive all year around. But beginning in November, the museum in South Kensington opens its famous Ice-Skating rink. Experience the thrill and be surrounded by magical fairy lights in the trees and the smell of mulled wine. If you'd like to go somewhere less busy, we'd recommend checking out Canary Wharf Ice Rink or Winterville ice skating at Clapham Common.
Day 4: Volunteer
Christmas is the time to give back to the people. Give back to the less fortunate and give thanks to the many beautiful things we have in life. It's easy! Wrap gifts for Wimbledon Guild, distribute food for Rhythms of Life, or serve meals at a Soup Kitchen near you.
Day 5: Check out Christmas Trees around London
As you've probably already noticed, there are Christmas trees all around London. One nicer than the other. Stroll around the city and discover them. Some of the most impressive ones can be found for example at Trafalgar Square, St. Pancras, Somerset House, and at Annabell's in Mayfair.
Day 6: Celebrate St. Nicholas
As a tradition, many kids in Europe leave a boot in front of the fireplace or on the doorstep before going to bed on 5th December, hoping to wake up to it being filled with gifts from St. Nicholas. The legendary saint has inspired the American Santa Claus and the British Father Christmas. So, leave out your shoe and maybe you'll be lucky and find a present in it in the morning!
Day 7: Christmas Pudding Race
Gather your friends and take part in the annual Christmas Pudding Race in Covent Garden. Overcome inflatables, decorate a Christmas tree, complete a slalom – all whilst balancing a Christmas Pudding. Even if you don't want to participate, the race is fun to watch, too!
Day 8: Go for a wintry park walk
There are lots of parks in all parts of London. Take your family for a walk in one of them or enjoy the tranquillity on your own. You can see grasslands, woodlands and all sorts of wildlife in Greenwich Park, where you will also have a unique view on the city. The parks are especially beautiful when it is snowing!
Day 9:  Listen to Christmas Carols in Trafalgar Square
Jingle bells, jingle bells… Beginning the 9th December there will be 40 carol groups singing Christmas Carols in Trafalgar Square, London, every day until 24th December. Watch, sing along with the choirs, and get in the festive spirit!
Day 10: Pick your own Christmas Tree
What's the centre piece of every Christmas celebration? Right, the Christmas Tree. Where else would the presents lie? Selecting your favourite tree is a fun event for the whole family! An especially exciting adventure is cutting the tree your own, for example at Crockford Bridge Farm.
Day 11: Watch a movie at an Outdoor Cinema
As every year, Classics in the Courtyard, South Place Presents, Backyard Cinema, and more, have put up christmassy venues. Cosy up in blankets, have some popcorn and sip warming beverages, while watching classical Christmas movies like Elf, Love Actually, Home Alone…
Day 12: Get Christmas cakes and pastries
Christmas is the time to indulge. Especially those with a sweet tooth enjoy this season. For the ones that cannot be bothered to bake their own treats, London offers a huge selection of bakeries offering all kinds of pastries, cakes, and baked goods. Get fancy creations at Dominique Ansel Bakery, decadent doughnuts at Crosstown Doughnuts or Doughnut Time, and buns at Gail's. Also, you'll definitely find some festive treats on every Christmas market.
Day 13: Christmas Jumper Day
What to wear won't be a question on 13th December. An ugly Christmas Jumper it is! The more hideous, the better! Spread the Holiday spirit and get your friends, colleagues, family, and everyone around you to wear one, too. Don't forget to take photos!
Day 14: Christmas at Kew
Go on a magical new route with many new light installations. Glittering spirals, laser projections, and a dazzling arch of lights leading to silvery, glowing shards. Particularly impressive and loved is the Palm House Pond show finale to Christmas classics. Remember to book your tickets in advance.
Day 15: Put up your Christmas Tree
Rocking around the Christmas tree! If you haven't done so already, now is the time to put up your carefully selected Christmas centrepiece – the Christmas Tree. And of course, decorate it! It's only 10 days until Christmas, after all.
Day 16: Admire the Christmas lights in London
Starting on 7th November in Carnaby and Savile Row, more and more Christmas lights all around London are being switched on. See the streets illuminated with impressive light displays in all shapes and colours. Walk around Covent Garden, Regent Street, the Shard, Oxford Street, … – Holiday spirit everywhere!
Day 17: Visit a Christmas Market
Find the most traditional Christmas Market in Leicester Square and see the famous place transformed for the festive season. Sample delicious treats and have a look at the Bavarian-inspired wooden stalls, offering wooden hand-crafted toys, festive ornaments, and much more. That's not the only Christmas market worth visiting, though! There are many more, such as the Southbank Centre Winter Market and Ealing Christmas Market.
Day 18: Watch a West End Show
Lean back and enjoy the show! Seasonal productions include the musical White Christmas, the play A Christmas Carol, and Nativity! The Musical. Tip: Go on weekdays to save a few pounds.
Day 19: Winter Wonderland
Go on rides, play games, watch a show, explore the land of Santa, and have some delicious foods and drinks. There is something to see and do for everyone! Celebrate the festive season at this spectacular Christmas destination, opened the whole month of December. The fest is busiest on weekends and in the evenings, so if you have the chance go during off-peak hours.
Day 20: Build a snowman
Frosty the Snowman, was a jolly happy soul… get out in the snow flurry and build a snowman. Hurry up before it all melts!
Day 21: Family Carols at St. Paul's
This event on 21st December at 11 o'clock is perfect to attend with the whole family. It retells the story of Christmas in words and with music. The spectacle is 45 minutes long and for free! In addition, you'll see the cathedral beautifully decorated.
Day 22: Bake Christmas Cookies
A cold and snowy (or in the case of London much rather rainy) day, so you don't want to leave your house? Bake some Christmas Cookies! The best thing: you most likely have all the ingredients for some simple sugar cookies already in your pantry! Get your little ones to help decorate some snowman biscuits or Christmas cinnamon cookies.
Day 23: Drink a nice cup of Hot Chocolate
Even though mulled beverages are great to warm up during the cold season, there is another drink that cannot be forgotten about: Hot Chocolate. Sure, you can get yourself a Starbucks or Costa Hot Chocolate. However, for an even better taste experience we'd recommend getting a REAL Hot Chocolate, loaded with the perfect amount of Marshmallows.
Day 24: Meet Santa
What do you want for Christmas? Hurry, and make a final trip to Santa and tell him and his elves when visiting him at one of his magical grottos. There are multiple locations all over the city and some are even for free! Get your photo with Santa and maybe even a small gift. (Pre-booking is highly recommended, if you don't want to stand in line for hours.)
Day 25: Christmas Day
Celebrate Christmas Day with your loved ones and enjoy the Holiday! Exchange gifts, sing Christmas songs, and have a holly jolly day.
London during the Winter season is truly wonderful. So, don't be a Grinch, celebrate the season! We wish you a happy Christmas time in London and may all your wishes come true!
Be sure to check out our amazing Smartsave blog where we let you know on how you can get more bang for your buck! Explore the possibilities on the best things to do in major cities in the UK, US and Europe. Click now to read our blogs and find inspiration on what to do and where to go, all year round.